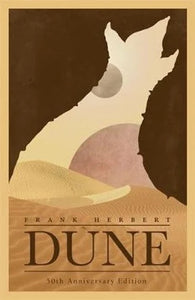 Dune 50th Anniversary Edition - Frank Herbert
$2500

$25.00
Tax included.
Shipping
calculated at checkout.
---
---
Before The Matrix, before Star Wars, before Ender's Game and Neuromancer, there was Dune: winner of the prestigious Hugo and Nebula awards, and widely considered one of the greatest science fiction novels ever written. Melange, or 'spice', is the most valuable - and rarest - element in the universe; a drug that does everything from increasing a person's life-span to making intersteller travel possible. And it can only be found on a single planet: the inhospitable desert world Arrakis.

Whoever controls Arrakis controls the spice. And whoever controls the spice controls the universe. When the Emperor transfers stewardship of Arrakis from the noble House Harkonnen to House Atreides, the Harkonnens fight back, murdering Duke Leto Atreides.

Paul, his son, and Lady Jessica, his concubine, flee into the desert. On the point of death, they are rescued by a band for Fremen, the native people of Arrakis, who control Arrakis' second great resource: the giant worms that burrow beneath the burning desert sands. In order to avenge his father and retake Arrakis from the Harkonnens, Paul must earn the trust of the Fremen and lead a tiny army against the innumerable forces aligned against them. And his journey will change the universe.

About the Author
Frank Herbert was born in 1920. His colourful and varied career included stints as a radio news commentator and jungle survival instructor. He is best known for creating the world of DUNE, which established Frank Herbert as a master of modern science fiction. He died in 1986.
An epic of political betrayal, ecological brinkmanship, and messianic deliverance... a universe of Machiavellian realpolitik, science fiction through the prism of the Cold War. There is little that is cute or cuddly: no furry-footed Hobbits, no teddy-bear-like Ewoks... This is terrain that is familiar to readers of George R. R. Martin's "A Song of Ice and Fire." Herbert's scheming, backstabbing villain, the Baron Vladimir Harkonnen, would be perfectly at home among the Lannisters of Westeros. - The New Yorker
Product Depth:  3.8 cm
Product Height:  19.7 cm
Product Weight:  0.42 kg
Product Width:  12.9 cm
---
We Also Recommend
---