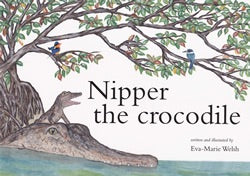 Nipper the Crocodile - NQ Author Eva-Marie Welsh
$2200

$22.00
Tax included.
Shipping
calculated at checkout.
---
---
Nipper the Crocodile is an Australian Wildlife Kids Story and Australian Made & Owned. The illustrated children's book is about the Australian Saltwater crocodile and reflects the unique wildlife and habitat of unique Northern Australia.
A crocodile mother is at a river bank. She hears calling noises from her nest. The baby crocodiles are hatching. Mother crocodile helps her hatchlings to get out of the eggs. Carefully, she carries them to the water on her back and in her mouth. Nipper is happy to have a ride in the safety of her jaws. The cassowary father warns Cassy to only admire crocodiles from a safe distance. Also, sound words like umph, rustle and crack make reading the book even more fun. The picture story book is educational. Other Australian animals and birds are included in the stunning art work, like a crab, Ulysses butterfly, heron, kingfisher, Cairns Birdwing butterfly and lorikeets. Last but not least, water lilies and mangroves are included in the beautiful illustrations.  
---
We Also Recommend
---